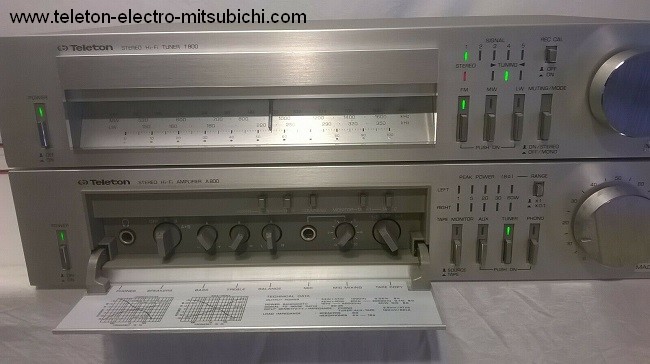 A800 et T800
Avec la série A800 A900 et le A1000 c'est Fujitsu qui est à l'origine de cet appareil aux lignes intemporel il
reprend l'idée du volet apparu sur le A3 et A5 pour masquer la plupart des boutons de réglage, dans une
finition argent l'ensemble fait son effet.

A800 and T800


With the A800 A900 series and the A1000 it is Fujitsu who is at the origin of this device with timeless lines.




takes up the idea of the flap appeared on the A3 and A5 to hide most of the knobs, in a




silver

finish all makes its effect.



A800 und T800




Mit der A800 A900 Serie und dem A1000 ist es Fujitsu, der dieses Gerät mit zeitlosen Linien entwickelt hat.


greift die Idee der Klappe auf der A3 und A5 auf, um die meisten Knöpfe zu verstecken, in einem


silber

f

inish alles macht seine Wirkung.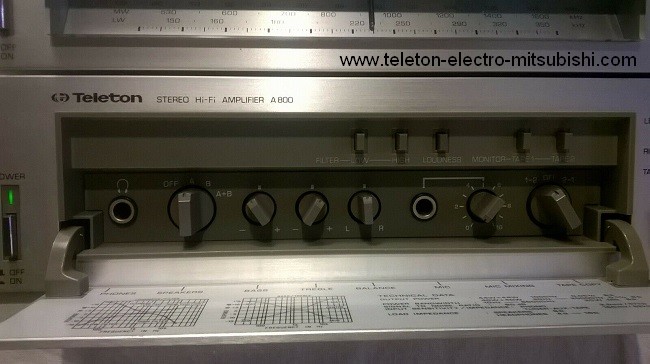 A800
On retrouve donc derrière ce volet une prise casque le sélecteur d'enceintes, le réglage des basses et des
aigus et la balance, une prise micro stéréo et le réglage de son volume d'enregistrement et enfin le sélecteur
de copie. Sur le dessus les deux filtres "Low et high" le loudness le monitoring et le sélecteur cassette 1 ou 2



We find behind this panel a headphone jack the speaker selector, the bass and




treble and balance, a stereo microphone jack and the setting of its recording volume and finally the selector




of copy.

On the top the two filters "Low and high" the loudness the monitoring and the selector cassette 1 or 2



Es gibt daher hinter diesem Bedienfeld eine Kopfhörerbuchse, den Lautsprecherwähler, den Bass und


Höhen und Balance, eine Stereo-Mikrofonbuchse und die Einstellung der Aufnahme-Lautstärke und schließlich
der Selektor

von Kopie. Auf der Oberseite der beiden Filter "Low und High" die Lautstärke der Überwachung
und der Auswahlkassette 1 oder 2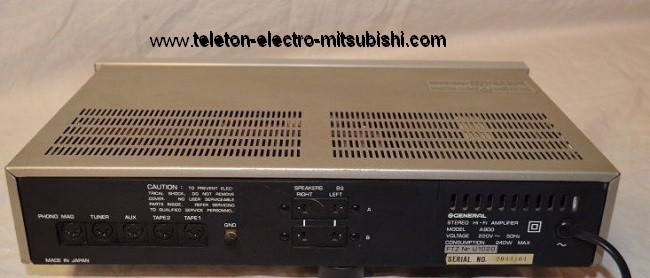 A800
Curieusement l'ensemble est en fiches DIN alors que le reste de la série sera en RCA
peut-être une dernière demande de "Teleton"



Curiously the set is in DIN cards while the rest of the series will be in RCA


maybe a last request for "Teleton"



Merkwürdigerweise ist das Set in DIN-Karten, während der Rest der Serie in RCA sein wird.


vielleicht eine letzte Bitte um "Teleton"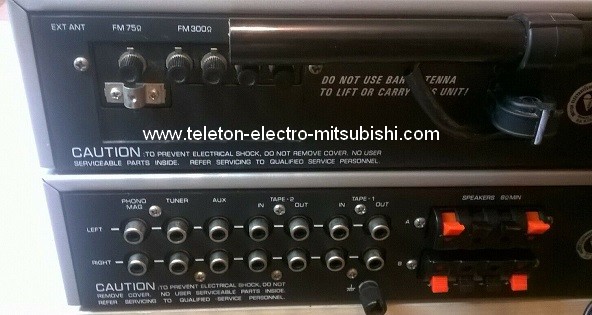 A800 RCA




A800
Détails du côté droit de la façade avec un bouton de volume biseauté, un multiplicateur d'échelle et une indication
de 60w maxi sous 8 ohms alors que l'amplis ne délivre que 44w maximum.



Details of the right side of the facade with a beveled volume knob, a scale multiplier and an indication


60W max under 8 ohms while the amplifier delivers only 44w maximum.

Details der rechten Seite der Fassade mit einem abgeschrägten Lautstärkeregler, einem Skalen-Multiplikator
und einer Anzeige

60W max unter 8 Ohm, während der Verstärker nur maximal 44W liefert.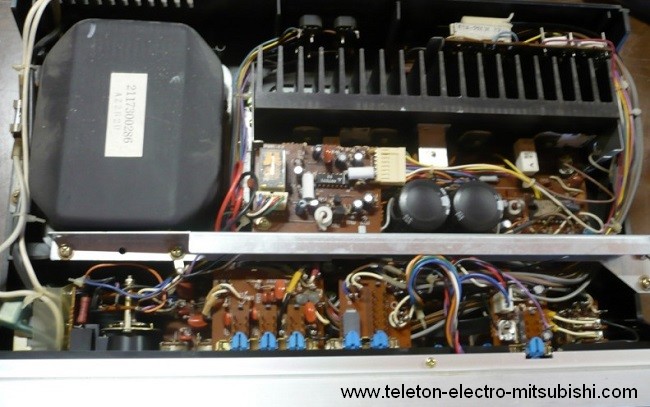 A800
Un beau transformateur
A beautiful transformer


Ein schöner Transformator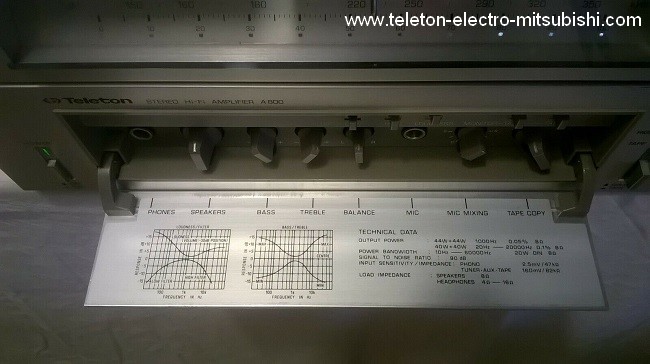 A800
Le volet une fois ouvert laisse apparaître deux abaques et les grandes lignes techniques de l'amplificateur.
The shutter once opened reveals two charts and the technical lines of the amplifier.


Der einmal geöffnete Verschluss zeigt zwei Diagramme und die technischen Linien des Verstärkers.